Organization chart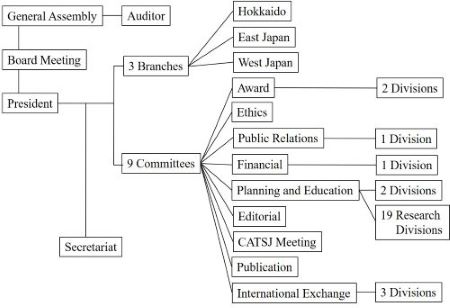 Member of the Board
The Board of Directors of the CATSJ consists of 16 Directors including one President and two Vice Presidents.
2021
Name, Affiliation
P

resident

Prof. Kiyotaka ASAKURA, Hokkaido University 

Vice President

Prof. Ichiro YAMANAKA, Tokyo Institute of technology

Vice President

Dr. Humihiko SHIMIZU, Mitsubishi Chemical Corporation

Auditor

Prof. Shuji TANABE, Nagasaki University

Auditor

Prof. Hiroshi AKAMA, Shizuoka University

Managing Director

Dr.  Shin-ichiro ICHIKAWA, Catalysis Society of Japan

Director, Hokkaido Branch

Prof.  Ken-ichi SHIMIZU, Hokkaido University

Director, East Japan Branch

Prof. Yoshihiro KUBOTA, Yokohama National University

Director, West Japan Branch

Prof. Hidenori YAHIRO, Ehime University

Director, Editorial Affairs

Prof. Kei INUMARU, Hiroshima University

Director, CATSJ Meeting

Prof. Kazu OKUMURA, Kogakuin University

Director, Education

Prof. Yuichi KAMIYA, Hokkaido University

Director, Planning

Dr. Yunosuke NAKAHARA , Mitsui Mining & Smelting Co., Ltd.

Director, International Exchange

Prof. Yutaka AMAO, Osaka City University

Director, Publishing Affairs

Dr. Yoshihiko MORI, TOSOH CORPORATION

Director, Management

Dr. Hiroyuki ITOH, N.E. CHEMCAT Corporation, Catalyst Manufacturers Association Japan

Director, Treasurer

Prof. Masaki OKAMOTO, Keio University

Director, Public Relations

Prof. Sakae TAKENAKA, Doshisha University

Director, General Affairs

Prof. Tetsuya SHISHIDO, Tokyo Metropolitan University

Director, Special Symposium

Dr. Hiroyuki SEKI, JGC Catalysts and Chemicals Ltd.

Director, Academic-Industrial Alliance

Dr. Ken OOYACHI, Mitsubishi Chemical Corporation

Director, ICC Campaign 

Prof. Keichi TOMISHIGE, Tohoku University
Committee
There are 12 standing committees to accomplish major tasks in the objectives of the CATSJ.
Research Division
19 research divisions covers various fields of catalytic science & technology and makes various events.
Branches
Hokkaido Branch (web in Japanese)
Eastern Japan Branch (web in Japanese)
Western Japan Branch (web in Japanese)
Junior society
Senior society