New Year's Greeting from the president
January 1, 2021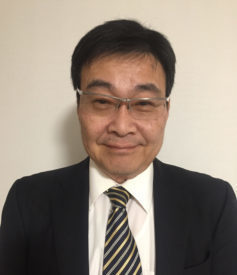 With best new year's wishes. 
I guess all of you have spent 'calm and silent' winter holidays.
Last year, winter came suddenly without experiencing expectation feeling in spring, exciting events in summer or fresh scenery in fall.
Since this century started, we have been suffering calamities almost every year in Japan although last year's calamity visited all the countries on our earth. I can not imagine when COVID-19 ceases in Japan.
The increase in cases of infection in the middle of last December in Japan is not a growth of 'the third wave' but the beginning of 'the fourth wave', I guess. The third wave might be past the peak at the end of November and the fourth wave, the infection of which may be spread by different mechanism from that so far, overlapped with the third wave. I forecasted that the fourth wave will reach the peak in the middle of January.  However, I strongly hope that the present status is out of my forecast and the infection is converging to low level.
We intended that Catalysis Society of Japan (CATSJ) fall meeting 2020 would be held in hybrid form of face-to-face and online, but after all, we could not help operating it online only because of the spread of COVID-19 as all of you knew.  Nevertheless, CATSJ fall meeting 2020 was successful with the number of participants close to 1,000.  I am grateful to all of you, Participants.
In addition, many of the participants kindly answered the questionnaire about the CATSJ fall meeting online and their reports were significantly very useful to improve the operation method of future CATSJ meetings. I highly appreciate cooperation of the participants.
Many of you are aware that number of participants of most of scientific symposia and conferences, which were held online recently, are increasing. To release from one's spatial restriction is to relax one's time constraint.  This may be the merits COVID-19 infection brought about.  If the symposia and conferences are held online, WHERE the organizer belongs to, like district branch, is meaningless. There comes various types of conferences and meetings, and thereby, diversity of our dispatch of information is increased.
Belatedly, we are starting social media, see the right of bottom, not only to dispatch useful information to the member of CATSJ but also to deliver allure of CATSJ to vast number of people.
Now, advanced reform of CATSJ is in progress on the basis of the reports from future vision WG at the end of FY2019.
Our forthcoming event is CATSJ spring 127th meeting at Chiba University. In addition to the regular program, a couple of special symposia on 'Catalytic technology supporting R&D of functional materials' and 'Innovative reactions relating to photons, electricity and electric field' are awaiting you. We are planning the hybrid meeting; face-to-face and online, and welcoming your participation.
See you in Chiba!
Message from President
June 1, 2020
Resumption and renovation of the daily life finally started after spread of COVID-19 infection passed the peak. I guess that one is always paying close attention to avoiding another spread of infection; nevertheless, some of the feeling of the former life may be restored.
I feel honored to have been appointed as the president of Catalysis Society of Japan (CATSJ). I will do my utmost best to manage and activate the CATSJ with the cooperation of directors based on opinions of the CATSJ members.
In future world, the setup and structure of the human society, lifestyle, and interaction of people will be changed because of COVID-19.
Reinforcement of information transmission capacity is required more and more for the Society. So far, CATSJ has offered the outcomes and products of CATSJ meetings, division meetings, lecture meetings, various committee conferences, etc., in which information exchange and people interaction among industry and academia has been promoted. In future, not only one way-communication but also interactive communication to/from many directions are required. That is, CATSJ should work as an information hub connecting people materially and/or electronically and mediate the interaction of people, immediate information exchange and collaborations as a 'catalyst'. In order to do that, enhancement of ICT is significantly important, thereby dispatching information to the CATSJ members as well as to the public and school students as enlightenment campaigns. This policy will develop the legacy of the former president.
I wish to state the CATSJ meeting of this fall. The board of directors of preceding fiscal year discussed how to hold the CATSJ fall meeting which may be affected by COVID-19 and decided to start up web-meeting working group (WG) in hast in the middle of last April for the design of the fall meeting. During Golden Week, spring vacation in Japan, the web-meeting WG together with the organizing committee and the local executing committee discussed and considered on-line how the fall meeting will be held. Finally it was concluded that 126th CATSJ meeting at Hamamatsu will be held on the campus of Shizuoka University in the sparse condition and also held applying on-line presentation simultaneously in order to provide the presence for as many participants as possible. This quite new trial is not only to guarantee the safety avoiding infections but also to change the style of conventional meetings and to enrich the contents being dispatched from CATSJ as well.
The following is on the human development of next generation. Without growth of next generation, future CATSJ will collapse. Encouragement of positive participation of young members in activities by CATSJ and taking ideas and opinions from them is undoubtedly important.
So far, CATSJ has supported the activities by the junior society mainly consisting of student members and hereafter, of course, the support must be lasting. On the other hand, quite important is to promote society activities by and interaction of people of 30s and 40s in industry and academia who will lead and run CATSJ 10 to 20 years later. I wish to afford the situation where they can show and appeal their capability.
ICC (International Congress on Catalysis) at San Diego is very likely to be postponed. However, we strongly hope to be a host of 18th ICC in 2024. We strengthen its campaign and prepare thoroughly for its success.
The advantage of CATSJ is there lie tremendous and various studies and R&D's from the fundamentals to the application expanding the boundaries beyond the fields. We would like to share the advantage with all the members of CATSJ. Taking ideas and opinions from our members, let's evolve our CATSJ together.